Moniteau County Missouri



Bethel Methodist Cemetery listings
---
Located just northeast of Jamestown, Bethel Methodist Cemetery has just 62 recorded burials but is rich in history of the Methodist Church in Moniteau County.
Directions to cemetery: From Jamestown, take Hwy Y north approximately 2.9 miles until the intersection with Bethel School Rd. Bethel School Rd. will veer to the right off Hwy Y. Continue on Bethel School Rd approximately 4/10s of a mile and the cemetery will be on the right side of the road.
GPS Location: 38.797602,-92.450987
Above, the cemetery as it looked in 2009 and the church building that once stood at this site.
All photos and photos linked to from this page are Copyright © 1997- Alan Sparks - www.moniteau.net, All Rights Reserved.
Please do not use them on other websites (including Find-a-grave) without permission.
According to an article reprinted from the 1889 History of Moniteau . . . Counties, Missouri in the Recording of Linn Township Cemeteries:
The Bethel Methodist Church east of Jamestown, the first Methodist church in the county, dates back to 1840. Among the early preachers were Mr Wilbur, Thomas Wallace, Thatcher, Daniel Leaper, John Gray, J Monroe and Ben Donaldson. The old building stood on Section 2, Township 46, Range 14, until 5 years ago (1884), when the site changed to Section 28 on Bruce's Landing Road. James Miller, Jr, other trustees of Bethel meeting house, were given a deed for two acres of land, by the administrator's of James Miller's estate, in August, 1846. This denomination built a church at Jamestown in 1889.
James Albin and Alan Sparks re-visited this cemetery in April 2007. Pictures were taken in February 2005 and April 2007. Higher resolution pictures were taken August 1, 2009.
---
[B] [C] [D] [H] [J] [K] [L] [M] [O] [S] [T] [W]

---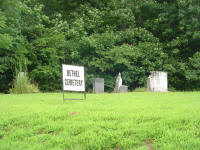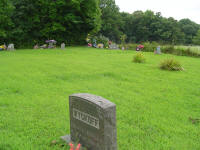 Above left, an unidentified wooden post marking a grave. Above right, a general views of the cemetery.


---
* = Calculated Date based on age; d/o = daughter of; s/o = son of; w/o = wife of; m = married
Info from death certificate = the information is from a death certificate and no stone was found for the individual.
Info from news obit = the information is from a newspaper obituary and no stone was found for the individual.
Info from 1883-1894 Moniteau Co Birth & Death Rec = the information is from the county death records and no stone was found for the individual.

= Click for picture

= Click for death certificate
Last Name, First Name, Middle, Birth Date, Death Date, Comments

Brown Janet Lee -- 1938 Oct 06 - 2008 May 26 -- w/o William Brown; d/o H & E Cameron
Brown William Leroy -- 1948 Sep 20 - 2007 May 24 -- s/o Rose Finn; adopted by Herman & Ruby Finn Brown; m 1973 to Jan Cameron -- Pic 1:

Pic 2:

Pic 3:


C

Cassil Anna B -- 1856 Jul 16 - 1926 Mar 06 -- w/o Willis Cassil



Cassil Bruce -- 1859 Jan 22 - 1916 May 10 -- Pic 1:

Pic 2:



Cassil Christena -- 1807 Mar * - 1896 Oct 21 -- Aged 89y 7m 12d -- w/o J R Cassil -- Pic 1:

Pic 2:


Cassil Donald -- 1925 Jan 11 - 1925 Jan 11 -- s/o Arnold & Alice Rosenmiller Cassil; Info from death certificate

Cassil John Nansol -- 1884 Nov 18 - 1914 May 21



Childress -- Metal marker, insert completely faded out
Childress Cora M -- 1898 - 1987 -- m 1914 Dec 30 to Harry N Childress


Childress Harry N -- 1889 Aug 31 - 1939 Apr 06 -- s/o Thomas & Martha Brizendine Childress


Chiles Clement -- Died 1901 Mar 11 -- Aged abt 50y -- Info from news obit

Coots Clara Lou -- 1877 Feb 15 - 1960 Dec 17 -- m 1896 Dec 24 to Joseph Coots; d/o Monroe & Sarah Murrell Martin



Coots Joseph Ambrose -- 1857 Oct 06 - 1929 Jan 16 -- m 1896 Dec 24 to Clara Martin; Death certificate lists birth year as 1867


Davis Emma -- 1876 Apr 07 - 1956 Nov 14 -- w/o R B Davis; d/o Martin & Mary Weisser Jahn; m 1st to John Hodler


Goebel John W -- 1889 Nov 18 - 1915 May 21 -- s/o Frederick & Alice Barry Goebel; adopted by Willis & Anna Cassil; Info from death certificate


H

Hayes Bonnie -- 1932 May 23 - -- m 08 Jul 1950 to Richard Hayes


Hayes Richard -- 1930 Feb 08 - 1989 Aug 07 -- m 08 Jul 1950



Herndon Edmund -- 1827 - 1906 Mar 03 -- Pic 1:

Pic 2:


Herndon Elizabeth Francis -- 1852 Oct 23 - 1922 Sep 01 -- d/o Edmund & Mary Herndon



Herndon Emma L -- 1872 Jan 22 - 1954 Oct 26 -- Emma married Joe Epps who divorced her within a short time


Herndon Mary Jane -- 1830 Nov 04 - 1906 Jan 07 -- m 1851 Aug 28 to Edmund Herndon; maiden name Boswell -- Pic 1:

Pic 2:



Higdon Robert Evan -- 1892 Nov 22 - 1916 Nov 09 -- s/o H H & E B Higdon; Death certificate has death month as December -- Pic 1:

Pic 2:




Hutchison Alpha A -- 1855 Sep 22 - 1918 Oct 15 -- w/o Pleas Hutchison -- Pic 1:

Pic 2:



Hutchison J Boyd -- 1907 Nov 09 - 1928 Mar 17 -- s/o A N & Lena Hutchison



Hutchison John A -- 1876 Oct 24 - 1907 Jan 13 -- Pic 1:

Pic 2:


Hutchison Pleas -- 1848 Feb 18 - 1940 Mar 31 -- s/o Aud & Alpha Kenney Hutchison; m 1875 to Alpha Kenney -- Pic 1:

Pic 2:


J

Jahn Infant -- Infant of Martin & Mary Jahn
Jahn Kathryn F -- 1896 May 19 - 1923 Nov 15



Jahn Louis G -- 1877 Sep 11 - 1956 Jun 11



Jahn Martin L -- 1851 Feb 11 - 1921 Mar 01



Jahn Mary Dorothy -- 1856 Nov 21 - 1931 Jan 05 -- nee Weisser



Jahn Rosa B -- 1880 Jan 03 - 1908 Aug 11 -- d/o M L & M D Jahn -- Pic 1:

Pic 2:



K

Kenney Albert -- 1889 Dec 17 - 1890 Aug 31 -- s/o J W & G Kenney -- Pic 1:

Pic 2:


Kenney Coleman B -- 1861 May 18 - 1908 Jul 30 -- Pic 1:

Pic 2:


Kenney John -- 1833 May 22 - 1900 Dec 24 -- Pic 1:

Pic 2:


Kenney Mary E -- 1834 May 18 - 1892 Dec 10 -- w/o John Kenney -- Pic 1:

Pic 2:


Kenney Nancy E -- 1865 Jul 04 - 1895 Jan 31 -- w/o C B Kenney -- Pic 1:

Pic 2:



L

Lara Francis James -- 1931 Oct 15 - 2000 Oct 28 -- Cpl US Army Korea -- Pic 1:

Pic 2:

Lara Jeremy J -- 1981 Jan 31 - 2008 Mar 04 -- Pic 1:

Pic 2:

M

Martin Douglas Clinton -- 1879 Dec 08 - 1958 Nov 19 -- s/o Monroe & Sarah Murrell Martin



Martin Sarah Eliza -- 1860 Mar 31 - 1923 Nov 21


Martin William Monroe -- 1846 Jun 05 - 1908 Mar 22



Murrell Elizabeth -- 1865 Apr 20 - 1953 Oct 18 -- Aged 88y 5m 8d -- d/o Nathan Murrell



Murrell Joicy Brown -- 1837 - 1890 Nov 13 -- w/o Nathan Murrell; obit appears in November 19, 1896 Democrat and gives Nov 13 death date -- Newer stone in 2009 -- Pic 1:

Pic 2:

Pic 3:


Murrell Laura M -- 1895 - 1900 -- d/o Jobe & Lillie Murrell; Newer stone in 2007

Murrell Lillie Wise -- 1867 - 1905 -- w/o Jobe Murrell; Newer stone in 2007

Murrell Nathan -- 1837 - 1919 --Newer stone in 2009 -- Pic 1:

Pic 2:

Pic 3:



O

Osborne Ethel F -- 1921 Feb 10 -


Osborne John G -- 1923 Feb 19 - 2001 May 27 -- m 1942 May 17 to Ethel Childress; PFC US Army WWII -- Pic 1:

Pic 2:

Potter Mrs ? -- Died 1888 Apr -- Had a son named James died of typhoid fever -- Info from news obit
S

Schulze Kathryn Rose Childress -- 1934 -



Seitz Frederick -- 1839 Dec 26 - 1925 Feb 12 -- m 1866 Nov 20 to Neta Buda; Death date from death certificate



Seitz Netty -- 1839 Dec 17 - 1913 Apr 22 -- w/o Frederick Seitz




Sells Haril E -- 1918 May 10 - 1918 May 10 -- s/o Ed & Mary Sells -- Pic 1:

Pic 2:


Sells J W -- 1919 Jun 25 - 1925 Oct 04


Sells Martin Aubrey -- 1916 Jan 02 - 1916 Dec 26 -- s/o Ed & Mary Sells -- Pic 1:

Pic 2:




Simpson Infant -- 1934 Aug 29 - 1934 Aug 29 -- s/o O E & G F Simpson



T
Templeton John Will -- 1867 Oct 14 - 1931 Nov 17 -- s/o Absolam Templeton



W

Wyckoff Charles Alva -- 1912 Nov 06 - 1914 Jul 17 -- s/o Joseph & Sophia Wyckoff -- Pic 1:

Pic 2:



Wyckoff Joseph M -- 1874 Jun 09 - 1946 Jan 16 -- s/o Eohiam & Diana Wyckoff



Wyckoff Sophia A -- 1886 - 1965 -- w/o Joseph M Wyckoff

---
---
Please go to the contact page with questions or comments about this web site
Copyright © 1997- Alan Sparks - Moniteau County MOGenWeb, All Rights Reserved.
Last modified: March 09, 2015