Moniteau County, Missouri



Edward Follin Family
---
The following information was emailed from Brenda Pike of Wellington, Florida.
The Daughters of 1812 placed a military marker on Edward Follin's grave in Spring 2006.
---
Below, the stones for Mary and Edward Follin in Sappington/Community Chapel cemetery south of California, Missouri.
Edward Follin was a War of 1812 Patriot. Edward's father, John, was a Revolutionary War Patriot (See http://www.arlingtoncemetery.net/j-follin.htm).
Edward Follin married Mary Ann Vermillion.

Edward and Mary Ann Vermillion Follin had the following children:
Mary Ellen Follin - married Jesse Kindle in 1852. She died March 1, 1896.
Children of Jesse and Mary Follin Kindle were:
John H Kindle born August 04, 1854
Anna E Kindle born (date unknown)
Andrew G Kindle born (date unknown)
Sarah Kindle born (date unknown); died in her 18th year
Norris U Kindle born June 15, 1858
William Kindle born (date unknown); died at 9 years of age

John H Kindle married Alice Thomas, November 29, 1888.
Children of John and Alice Thomas Kindle were:
Ola M Kindle born August 26, 1890
Sylvia Lee Kindle born July 23, 1891
Velma Kindle born January 1896
One died in infancy

Anna E Kindle married Louis Palmer, January 4, 1881.
Children of Louis and Anna Kindle Palmer were:
Dollie Palmer born August 14, 1882
May Palmer born February 2, 1884

Andrew G Kindle married Eva Switzger.
Children of Andrew and Eva Switzger Kindle were::
Ralph Kindle born September 1891
One child died in infancy

Norris U Kindle married Laura House, August 12, 1883.
Children of Norris and Laura House Kindle were:
Jesse E Kindle born October 18, 1884
Willie U Kindle born December 24, 1885
Lucille Kindle born September 25, 1887
Ethel E Kindle born September 8, 1889
Claud S Kindle born September 11, 1896
Nellie Kindle born September 7, 1899


Benjamin F Follin married Amanda C Hall in 1864
Children of Benjamin and Amanda Hall Follin were:
Edward C Follin born March 21,1866; died August 4, 1895
Rosa C Follin born July 9, 1870
Ira D Follin born October 5, 1874
Estelle Follin born December 17, 1876

Rosa C Follin married Thomas Forsythe, January 2, 1894.
Children of Thomas and Rosa Follin Forsythe were:
Lester Forsythe born November 10, 1894
Clarence Forsythe born (date unknown)

Ira D Follin married Jessie M Follin, daughter of George E Follin (being cousins), January 29, 1895.
Children of Ira and Jessie Follin were:
William Herbert Follin born May 11, 1896
Richard R Follin born July 5, 1898

Eliza Ann Follin married Reuben Jenkins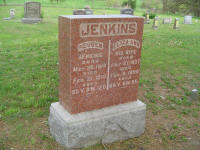 Above, Reuben and Eliza Jenkins stone in Sappington/Community Chapel Cemetery.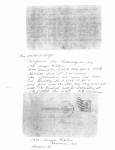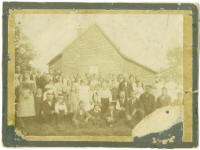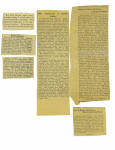 Above, a postcard noting "grandpa" Reuben Jenkins' death in 1910.
Middle picture is ________.
Picture on the right is of various articles on Reuben and Eliza Jenkins and their obituaries.

---
---
Please go to the contact page with questions or comments about this web site
Copyright © 1997- Alan Sparks - Moniteau County MOGenWeb, All Rights Reserved.
Last modified: May 09, 2009