Copp Chapel Cemetery listings
---
All photos and photos linked to from this page are Copyright © 1997- Alan Sparks - www.moniteau.net, All Rights Reserved.
Please do not use them on other websites (including Find-a-grave) without permission.
This cemetery is in the far northern part of Linn Township, Moniteau County in the SE 1/4 of Section 25, Township 48, Range 15. It is located on an old Indian mound, commonly found along the banks of the Missouri River. This cemetery is located approximately 1 1/2 miles southeast of Wooldridge, Cooper County, Missouri and contains over 245 known burials..
Directions to cemetery: From Wooldridge, take Hwy 179 south. From Jamestown, take Hwy 87/179 north and stay on Hwy 179 when they separate. From either direction, go until coming to Ridge Road. Turn east and travel until coming to the intersection with Copp Chapel Road. Turn left (north) and the cemetery will be down the road and on the left. (See map above)
For additional information and another transcription, please visit the Cooper County cemetery site for Copp Chapel cemetery. Differences in the two records have been noted.

Alan Sparks visited this cemetery in 2002. The pictures were taken in January 2005, April 2008 and October 2008.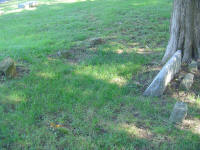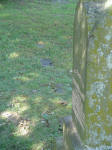 Above left: unknown rough stones. Above right: Blank concrete markers next to Elizabeth Good, just inside the gate of the cemetery.
Above, what appear to be footstones or crude concrete markers. All have just initials.
Located here: 38.883621,-92.504231
---
[A] [B] [C] [E] [F] [G] [H] [J] [K] [L] [M] [N] [O] [P] [R] [S] [W]
---
* = Calculated Date based on age; d/o = daughter of; s/o = son of; w/o = wife of; m = married
Info from death certificate = the information is from a death certificate and no stone was found for the individual.
Info from news obit = the information is from a newspaper obituary and no stone was found for the individual.

= Click for picture

= Click for death certificate
Last Name, First Name, Middle, Birth Date, Death Date, Comments

Unknown/unidentifiable stones
Adkins Polly Lee -- 1903 Apr 04 - 1904 Feb 29 -- d/o Henry & Pearl Adkins -- Pic 1:

Pic 2:



Allen Infant -- 1881 Jul 20 - 1881 Jul 20 -- s/o M & Mary S Allen -- Pic 1:

Pic 2:

Allen Mary S -- 1861 Aug * - 1892 Jan 22 -- Aged 30y 5m 5d -- w/o Marion Allen -- Pic 1:

Pic 2:


Allen Tonnie -- Died 1883 Aug 18 -- Aged 9y 10m 18d -- d/o M & Mary S Allen -- Pic 1:

Pic 2:

Ballard James T -- 1946 Feb 07 - 1946 Feb 10




Bass Charles R -- 1869 Mar 09 - 1869 Sep 18 -- s/o P & Sarah Bass -- Pic 1:

Pic 2:


Bass Phillip M -- 1843 Aug 22 - 1941 Jul 09



Bass Sarah E -- 1847 Jan 16 - 1915 May 31 -- w/o Phillip Bass




Brady Mirtie -- 1878 Nov 26 - 1899 Jul 05 -- d/o Taylor & Sarah Brady -- Pic 1:

Pic 2:


Brady Sarah E -- 1856 Jan 25 - 1937 Sep 03 -- w/o Taylor Brady



Brady Taylor B -- 1850 Oct 13 - 1911 Apr 10


Brady Thomas William -- 1876 Oct * - 1890 Oct 20 -- Aged 14y -- s/o T & S Brady

Brown D E -- 1874 Mar 23 - -- No death date on stone; Died after wife, Sadie, in 1917 -- Pic 1:

Pic 2:


Brown Sadie Chrisman -- 1879 Apr 13 - 1917 Aug 12 -- w/o D E Brown -- Pic 1:

Pic 2:


Bruce A L -- 1922 Jun 21 - 1945 Apr 19 -- Missouri, PFC 636 Tank Destroyer Bn WWII


Bruce Albert -- 1882 Mar 11 - 1963 May 21


Bruce Alice A -- 1862 Oct 10 - 1914 Dec 23 -- w/o T W Bruce


Bruce Beatrice -- 1895 Apr 02 - 1896 Oct 28 -- Pic 1:

Pic 2:


Bruce Charles Wesley -- Died 1918 Oct 15 -- Seaman US Navy Montana -- Pic 1:

Pic 2:


Bruce Clara -- 1879 May 01 - 1901 Jan 10 -- Pic 1:

Pic 2:


Bruce Claudenia -- 1885 Aug 30 - 1904 Mar 29 -- Pic 1:

Pic 2:


Bruce Darrell B -- 1912 Mar 03 - 1941 Feb 12



Bruce Delma M Crews "Mary Jane" -- 1918 Jan 05 -


Bruce Doris A (Lehman) -- 1928 Dec 18 - 2003 Aug 18


Bruce Dorothy May -- 1908 Dec 07 - 1947 Jan 11 -- d/o Hogan & Elizabeth Bruce



Bruce Effie -- 1876 - 1962 -- w/o George Bruce


Bruce Elizabeth -- 1883 Nov 10 - 1925 Jul 13 -- d/o Tucker & ? Reimler Bruce; w/o Hogan Bruce



Bruce George T -- 1876 Nov 11 - 1947 Oct 03 -- s/o James & Margaret Driskell Bruce



Bruce Geroid Daniel "Sam" -- 1911 Oct 22 - 1994 Nov 16 -- s/o Hogan & Elizabeth Bruce; m 1935 Aug 31 to Delma "Mary Jane" Cruse


Bruce Gillie Tuttle -- 1875 Jul 07 - 1945 Nov 23 -- w/o Levi Bruce



Bruce Gladys E -- 1899 Aug 18 - 1953 Jul 27



Bruce Harland W -- 1907 Dec 09 - 1908 Feb 16 -- Pic 1:

Pic 2:


Bruce Helen Elizabeth -- 1913 Aug 28 - 1993 May 26 -- d/o Hogan & Elizabeth Bruce


Bruce Infant -- 1905 Jun 19 - 1905 Jul 12 -- s/o Hogan Bruce & wife -- Pic 1:

Pic 2:


Bruce Infant -- 1914 Jun 20 - 1914 Jun 20 -- s/o Ed & Ethyl Bruce -- Pic 1:

Pic 2:



Bruce James Hogan -- 1883 Dec 11 - 1965 Oct 02


Bruce James K -- 1846 Feb 25 - 1918 Mar 30



Bruce Lavond Lea -- 1937 May 18 - 1980 Jul 11 -- A 2C US Air Force -- Pic 1:

Pic 2:


Bruce Levi M -- 1872 Nov 10 - 1944 Sep 23


Bruce Lydia M -- 1850 Nov 12 - 1922 Sep 14 -- w/o James K Bruce



Bruce Maggie E -- 1881 Aug 25 - 1928 Mar 18 -- d/o Ed & Jew Renfrow McCalnahan; w/o Albert Bruce


Bruce Missouri A -- 1854 Nov 18 * - 1895 Jan 15 -- Aged 40y 1m 28d -- w/o T W Bruce -- Pic 1:

Pic 2:


Bruce Nellie Musick -- 1909 Aug 29 -


Bruce Robert Sterling -- 1920 Sep 11 - 1992 Apr 13 -- m 1947 Jan 24 to Doris Lehman


Bruce Russell Truman -- 1906 May 16 - 1955 Nov 14



Bruce Sonya Donnette -- 1934 Oct 22 - 1936 Jan 30 -- d/o Wayne A & Nellie L Bruce



Bruce Thomas Wesley -- 1856 Jul 01 - 1933 Aug 16 -- Pic 1:

Pic 2:



Bruce Wayne A -- 1901 Sep 08 - 1952 Nov 18



Bruce Willie -- 1876 Sep * - 1894 Apr 30 -- Aged 17y 7m 26d -- s/o T W & M A Bruce


Bruce Wyla -- 1917 Oct 18 - 1920 Jan 07 -- d/o Ed & Ethyl Bruce -- Pic 1:

Pic 2:

Bunce James H Jr -- Died 1889 May 06 -- Aged 2y -- Buried here according to Cooper MoGenWeb site & Cooper Co. Death Recs
Butcher Margaret Maxine -- 1917 Mar 07 - 2005 Jul 02 -- d/o R L & Ellen Slaughter Johnson; w/o Charles Butcher

Campbell Ottis Guy -- 1903 Jan 01 - 1903 Dec 15 -- s/o J E & Rachel Campbell -- Pic 1:

Pic 2:

Carmichael Audrey C -- 1920 Sep 28 - 2004 May 01 -- d/o Mont & Dora Brady Cooper; m 1953 Dec 15 to Robert Carmichael

Carmichael Robert J -- 1924 Feb 09 -


Chenault Angeline Adelia Edwards -- 1833 Aug 31 - 1901 Sep 03 -- m 1852 to James Madison Chenault


Chenault Calvin Dewey -- 1925 Apr 05 - 1925 Apr 11 -- s/o Dewey & Ona May King Chenault -- Pic 1:

Pic 2:



Chenault Charles Sherman -- 1866 Apr 07 - 1955 Dec 09



Chenault Isaac Dewey -- 1898 Mar 30 - 1954 Mar 11 -- s/o Sherman & Molly Chrisman Chenault -- Pic 1:

Pic 2:



Chenault James M -- 1834 Dec 22 - 1895 Jun 05 -- s/o John & Sarah Wesley Chenault; m 1852 to Angeline Adelia Edwards Chenault


Chenault Joseph -- 1890 Aug 06 - 1893 May 20


Chenault M J -- 1858 Feb 07 - 1908 Dec 26 -- Pic 1:

Pic 2:


Chenault Mollie -- 1890 Aug 06 - 1892 May 20


Chenault Mollie F -- 1869 Feb 13 - 1945 Nov 30 -- w/o C Sherman Chenault



Chenault Ona May -- 1900 Oct 18 - 1927 Jan 20 -- d/o William & Ollie Woods King; w/o Dewey Chenault -- Pic 1:

Pic 2:



Chenault Robert J -- 1855 Jun 06 - 1919 Sep 23 -- No death date on stone -- Pic 1:

Pic 2:


Chrisman Arch R -- 1892 Apr 21 - 1978 Aug 02

-- s/o Isaac & Eliza Jane Moser Chrisman; m (1) Irma Brockman; m (2) 1949 to Mary Louise Piatt
Chrisman Eliza J -- 1850 Jan 09 - 1933 Sep 20 -- w/o Isaac Chrisman -- Pic 1:

Pic 2:



Chrisman Irma G Brockman -- 1895 Oct 20 - 1937 May 09 -- w/o Arch R Chrisman



Chrisman Isaac -- 1845 Dec 14 - 1925 Dec 02 -- s/o John Chrisman -- Pic 1:

Pic 2:



Chrisman James A "Mug" -- 1921 May 21 - 1991 Apr 07 -- s/o Arch & Irma Chrisman; m 1955 Dec 26 to Mary Elizabeth Morrow


Chrisman Josephine -- 1911 May 26 - 1985 Dec 17
Chrisman Mary E "Liz" -- 1928 Jul 13 - 1985 Apr 30 -- d/o James & Ada Crawford Morrow; m 1955 Dec 26 to James A Chrisman


Chrisman Minnie L -- 1877 Sep 21 - 1877 Oct 12 -- Pic 1:

Pic 2:


Chrisman Owen B -- 1897 Jan 13 - 1959 Aug 18 -- Missouri Pvt Co A 20th Inf WWI


Chrisman Ronney Lee -- 1943 Sep 10 - 1943 Sep 10 -- s/o Edgar H & Margaret Chrisman

Coffman Ann T -- 1853 Jan 09 - 1906 Dec 30 -- Pic 1:

Pic 2:

Pic 3:


Coffman Betty Joe -- 1947 -- Only date listed


Coffman Bower "Doc" -- 1878 Jun 05 - 1964 Jan 01


Coffman Carl Newton -- 1937 -- Only date listed



Coffman Cora Bell -- 1877 Jun 07 - 1920 Mar 05 -- w/o Isaac N Coffman


Coffman Donald R -- 1935 Mar 06 - 2001 Mar 09 -- s/o Raymond & Cleve Joyce Coffman; m 1984 May 05 to Sandy Nolte

Coffman Ewing -- 1903 Oct 12 - 1988 Apr 06 -- s/o Isaac & Cora Belle Merritt Coffman; m 1936 Sep 02 to Josephine Schreibner


Coffman Infant -- 1916 May 12 - 1916 May 12


Coffman Isaac Newton -- 1875 Jul 05 - 1929 Nov 23



Coffman James -- 1844 May 14 - No death date listed -- Pic 1:

Pic 2:

Pic 3:


Coffman James C -- 1900 Feb 15 - 1920 Feb 28 -- Pic 1:

Pic 2:


Coffman Josephine -- 1911 May 26 - 1985 Dec 17 -- d/o Carl Otto & Sophia Louise Mille Schreibner; w/o Ewing Coffman


Coffman Winterbaurn -- 1879 Jan * - 1964 Jan 01 -- Aged 85y

Coombes Velma Coffman -- 1909 - 1934

Cooper Ben Dorsey -- 1922 - 1923


Cooper Charles A -- 1906 Dec 24 - 1964 Dec 30


Cooper Dora A -- 1882 Sep 18 - 1971 Sep -- w/o Mont Cooper


Cooper Infant -- 1906 Nov 12 - 1906 Nov 18 -- s/o Mont & Dora Cooper -- Pic 1:

Pic 2:


Cooper Mont R -- 1880 - 1962


Cooper Montie E -- 1913 - 1944

Copp Elizabeth -- 1824 Sep 05 - 1903 Jan 14 -- Pic 1:

Pic 2:


Copp Michael -- 1824 Jan 03 - 1906 Jan 28 -- No death date on stone -- Pic 1:

Pic 2:

Pic 3:

Edwards Charlie -- 1842 - 1909

Faubion Martha A -- 1852 Feb 27 * - 1886 Jan 31 -- Aged 33y 11m 4d -- w/o B F Faubion -- Pic 1:

Pic 2:



Foley Dell W -- 1902 - 1967


Foley Docia Lee -- 1904 Aug 13 - 1954 Apr 05 -- w/o Dell Foley; d/o S & M Chenault




Foster Logan Michael -- 1993 May 07 - 1999 Feb 04 -- Pic 1:

Pic 2:

Pic 3:

Pic 4:

Giles Henry D "Uncle Doug" -- 1853 - 1940 Sep 25 -- death certificate gives 1854 Mar 26 birth date

Giles Mattie -- 1871 Aug 28 - 1910 May 03 -- w/o William Giles on stone; Cem rec states w/o Henry D Giles -- Pic 1:

Pic 2:

Pic 3:



Giles Virginia Lou -- 1855 Oct 24 - 1931 Jan 26 -- w/o Henry Giles -- Info from death certificate

Good Arzela T -- 1868 Jun 11 - 1870 Feb 23 -- Pic 1:

Pic 2:

Pic 3:


Good Elizabeth -- 1802 - 1869 Oct 14 -- w/o Emanuel Good -- Pic 1:

Pic 2:

Pic 3:


Good Elizabeth -- 1836 Jul 10 - 1907 Apr 07 -- w/o Isaac Good -- Pic 1:

Pic 2:

Pic 3:


Good Francis M -- 1866 Oct 14 - 1869 Mar 26 -- Cem rec gives birth date as 11 Oct 1860 -- Pic 1:

Pic 2:


Good George M -- 1871 Apr 17 - 1873 Dec 13 -- Pic 1:

Pic 2:


Good Isaac (Rev)-- 1835 Feb 15 - 1907 Jan 24 -- Pic 1:

Pic 2:

Pic 3:


Good Jewel -- 1900 Feb 17 - 1900 Feb 20 -- Pic 1:

Pic 2:


Good Julia B -- 1875 Aug 02 - 1875 Oct 13 -- Pic 1:

Pic 2:


Good Michael -- 1857 Sep 27 - 1879 Mar 18 -- Pic 1:

Pic 2:



Gray Mary -- 1858 Mar 31 - 1880 May 08 -- w/o John M Gray -- Pic 1:

Pic 2:

Hatfield Audrey -- 1922 Sep 06 - 1992 Jan 26



Heil Granville Smith -- 1865 Feb 08 - 1904 Feb 14 -- Erected by Woodmen of the World -- Pic 1:

Pic 2:



Hicks Dorothy -- 1922 Jan 09 - 1997 Jan 12


Hicks John -- 1896 - 1972


Hicks Mable A -- 1914 - 1972


Hicks Raymond F -- 1918 Jan 28 - 1995 Mar 18 -- PFC US Air Force WWII

J
Johnson Family Stones

Johnson ? -- 1847 Oct 26 * - 1875 Oct 06 -- Aged 27y 11m 10d -- w/o James Johnson; Broken stone


Johnson Bert -- Died 1905 Dec 30


Johnson Edna Mae -- 1922 Feb 11 - 1934 Jun 02 -- Pic 1:

Pic 2:



Johnson Ellen J -- 1892 Mar 30 - 1985 Jan 20 -- d/o A J & Eliza Harriett Hutchison Slaughter; m 1910 Nov 10 to Robert L Johnson


Johnson Isaac P -- 1863 Jul 18 - 1914 Nov 26 -- Pic 1:

Pic 2:



Johnson Jobe T -- 1864 Oct 26 - 1939 Apr 03 -- Info from death certificate
Johnson Lamanda -- 1865 Feb 17 - 1936 Dec 24 -- w/o Isaac P Johnson
Johnson Moses -- 1884 Oct 29 - 1885 Jun 02 -- Pic 1:

Pic 2:


Johnson Nancy -- 1840 Apr 06 - 1880 Mar 30 -- w/o Joseph Johnson -- Pic 1:

Pic 2:

Pic 3:


Johnson Ollie B -- 1900 Dec 01 - 1951 Feb 11


Johnson Robert L -- 1889 Dec 09 - 1924 Jun 26



Johnson Rosa Rimel -- 1873 Feb 19 - 1927 Dec 06 -- Dates from death certificate


Jones Alpha -- 1874 Jan 01 - 1946 Feb 11
-- m 1st to James Kingery; m 2nd to Jack Jones -- maiden name Kimberling -- Info from death certificate
Kaiser Anna -- 1881 Oct 03 - 1942 Mar 12 -- d/o Charles & Roxie Ann Shipley Mills; w/o William Kaiser -- Pic 1:

Pic 2:


Kaiser Paul S -- 1912 Mar 17 - 1965 Jun 25 -- Missouri Tec 4 191 Port Co TC WWII


Kaiser William -- 1869 Feb 01 - 1933 Mar 12 -- Pic 1:

Pic 2:


Kelly Nancy Lee -- 1880 Mar 21 - 1955 Jul 09 -- Info from death certificate

Kenney John W -- 1858 Jan 22 - 1948 Sep 29



Kenney Missouri A -- 1874 Jun 03 - 1961 Apr 25 -- m 1903 Nov 20 to John Kenney



King Annie -- 1879 - 1941


King James S -- 1849 - 1925 Mar 02 -- Cem rec gives MI as K


Kingery Frank -- 1881 Aug 06 - 1948 Aug 29



Kingery George -- 1874 Aug 23 - 1950 Nov 22 -- Homemade concrete stone; Birth date from death certificate -- Pic 1:

Pic 2:

Pic 3:



Kingery James Arnold -- 1894 Jan 13 - 1940 Dec 24 -- s/o James & Alpha Kingery -- Info from death certificate
Kingery James Henry -- 1869 Dec 03 - 1939 Sep 04 -- h/o Alpha Kimberling Jones



Korsen Alamanza Windsor -- 1861 Feb 14 - 1944 Jul 19 -- First w/o John Korsen


Korsen John T -- 1852 - 1927 Mar 26

Lachner Emma -- 1877 Dec 03 - 1905 Apr 30 -- Pic 1:

Pic 2:

Lachner Sarah -- Died 1887 Apr 05 -- Aged 63y 2m -- Buried here according to Cooper MoGenWeb site & Cooper Co. Death Recs

Lamm Callie K -- 1906 Oct 01 - -- w/o H S Lamm


Lamm Henry S -- 1898 Mar 27 - 1944 Feb 08


Lamm Lizzie M -- 1881 Jul 19 - 1931 Sep 05 -- w/o Paul Lamm -- Pic 1:

Pic 2:



Lamm Margaret -- Died 1887 May -- Aged 48y 10m -- Info from Cooper County death records
Lamm Mildred Marie -- 1921 Feb 04 - 1923 Mar 23 -- d/o H S & Ethel Chenault Lamm -- Info from death certificate

Lamm Paul E -- 1874 - 1967 -- Cem rec gives death date as 1931



Lancaster Gil Cooper -- 1916 Mar 11 - 1996 Aug 10


Lancaster Richard D -- 1900 Jan 24 - 1991 Oct 24



Light Georgia -- 1908 Feb 22 - 1997 May 10



Locherer Francis J S -- 1854 May 01 * - 1874 Apr 22 -- Aged 19y 11m 21d -- s/o S & M Locherer -- Pic 1:

Pic 2:

Mahoney Thelma B -- 1903 Sep 06 - 1927 Sep 28




McClanahan Edmund -- 1847 May 26 -- 1931 Nov 28 -- Info from death certificate
McClanahan Elizabeth -- 1810 - 1887 -- w/o Thomas McClanahan


McClanahan Elizabeth -- Died 1883 Aug 02 -- Aged 42y 10m 5d -- Pic 1:

Pic 2:

-- w/o Wm McClanahan; Cem rec states appears very old, unable to read dates
McClanahan James -- 1835 - 1875 -- s/o James & Elizabeth McClanahan


McClanahan Juriah -- 1854 May 11 - 1898 Feb 15 -- w/o Edmund McClanahan -- Pic 1:

Pic 2:


McClanahan Theodocia -- 1865 Apr 06 - 1869 Jul 03 -- d/o Wm & Sarah McClanahan -- Pic 1:

Pic 2:


McClanahan Thomas -- 1808 - 1877

Merritt Adelia A -- 1899 Feb 20 - 1908 Mar 18 -- Pic 1:

Pic 2:


Merritt Henry O -- 1872 May 20 - 1948 Feb 10 -- Stone has birth year 1873



Merritt Mary J -- 1881 Apr 03 - 1906 Dec 13 -- Pic 1:

Pic 2:

Miller Elizabeth Renfrow -- 1848 Jul 10 - 1928 Jan 01 -- Dates from death certificate


Mills Charles T -- 1856 Jul 09 - 1931 Jan 30 -- Info from death certificate
Mills Cora Elizabeth -- Died 1890 Jul 29 -- Aged 1y 7m 7d -- d/o C T & R Mills -- Info submitted by family member -- Pic 1:

Pic 2:

Mills Eldevine -- 1835 Mar 24 - 1911 Mar 27 -- w/o John J Mills; No death date on stone



Mills Florence E -- 1891 - 1963


Mills Hattie D -- 1922 - 1923


Mills Infant -- 1915 Feb 06 - 1915 Feb 06 -- d/o Elzie & Effie Mills -- Pic 1:

Pic 2:


Mills John E -- 1863 Nov 23 - 1908 Feb 17 -- Pic 1:

Pic 2:


Mills John J -- 1823 Mar 22 - 1907 Feb 07


Mills John W -- 1878 Jan 25 - 1934 May 01



Mills Laura E -- 1857 Nov 11 - 1930 Sep 10



Mills Lewis -- 1862 Apr 22 - 1935 Apr 22 -- death certificate gives 1865 Apr 22 birth date



Mills Mary E -- 1898 Sep 22 - 1921 Aug 19



Mills Owen P -- 1896 Aug 19 - 1915 Aug 19



Mills Roxey -- 1862 Jul 15 - 1891 Jul 28 -- Aged 29y 13d -- w/o C T Mills -- Pic 1:

Pic 2:


Mills Willie M -- 1893 Jun 19 - 1914 Mar 16 -- d/o John & Laura Mills


N

Newell Less F -- 1901 Sep 30 - 1968 Dec 06


Newell Lydia L -- 1904 Aug 14 - 1961 Jan 12 -- w/o Less Newell


Newell Ronnie E -- 1941 Jun 09 - 2000 Aug 24 -- s/o Leslie Franklin & Lydia Loren Merritt Newell; h/o Sharon Newell


O

O'Dell Erva Ragsdale -- 1912 Dec 26 - 2007 Dec 26 -- m 1974 Aug 17 to Grover O'Dell -- Pic 1:

Pic 2:

O'Dell Grover Houston -- 1923 Sep 13 - 1981 Dec 18 -- Pic 1:

Pic 2:

-- s/o Franklin & Alice Conners O'Dell; m 1974 Aug 17 to Erva Ragsdale

Offield Chris Douglas -- 1951 Nov 10 - 1985 Nov 15 -- Pic 1:

Pic 2:



Ogden Hester -- 1860 Nov 27 - 1925 May 20 -- Dates from death certificate -- Pic 1:

Pic 2:




Olson Dora M -- 1906 Mar 06 - 1993 Apr 18 -- d/o Bert & Rosa Rimel Johnson; w/o Theodore Olson -- Pic 1:

Pic 2:


Olson Theodore R -- 1902 Feb 01 - 1980 Mar 23 -- s/o Matt & Myrtle Keokevolt Olson -- Pic 1:

Pic 2:

Pate Lavina -- 1831 Oct 28 - 1889 Aug 31 -- Pic 1:

Pic 2:


Pate Thomas R -- 1819 Sep 09 - 1887 Feb 22 -- Pic 1:

Pic 2:



Pedego Edna Cooper "Dolly" -- 1925 May 13 - 1988 Sep 13



Polley Andrew Perry -- 1900 Oct * - 1901 Jan 07 -- Aged 2m 29d -- s/o M T & Lelia Polley -- Pic 1:

Pic 2:


Polley Clarence G -- 1873 Sep * - 1895 Jan 12 -- Aged 21y 4m 10d -- Pic 1:

Pic 2:


Polley James Perry -- 1893 Oct 30 - 1917 Jun 15 -- Pic 1:

Pic 2:



Polley Nora Agnes -- 1905 Aug 30 - 1906 Feb 02 -- d/o M T & Lelia Polley -- Pic 1:

Pic 2:

Pursley U Grant -- 1866 Jun 29 - 1931 Dec 22 -- h/o Mary Bruce -- Info from death certificate
Renfrow Andy David -- 1855 Feb 02 - 1936 Jan 06 -- Stone has 1854 birth year



Renfrow Annie L -- 1877 Dec 18 - 1899 Sep 06 -- w/o J P Renfrow -- Pic 1:

Pic 2:


Renfrow George W -- 1884 Jun 08 - 1969 Dec 28


Renfrow Harriet ? -- 1830 Jan 12 - 1894 May 08 -- w/o Mark Renfrow -- Pic 1:

Pic 2:


Renfrow Ida I -- 1898 Dec 04 - 1899 Aug 24 -- d/o J P & Annie Renfrow -- Pic 1:

Pic 2:


Renfrow Lou -- 1857 - 1901 Mar 14 -- Aged 44y 5m 20d -- w/o A D Renfrow -- Pic 1:

Pic 2:

Pic 3:

Pic 4:

Pic 5:


Renfrow Louisa M -- 1844 Aug 22 - 1925 Jan 11



Renfrow Sophia L -- 1891 Jan 25 - 1951 Sep 26 -- w/o G W Renfrow



Renfrow Wilbur E -- 1925 Feb 21 - 1929 Jan 17




Rymel Clyde -- 1913 Oct 26 - 1913 Nov 12

-- s/o Wesley & Lilly Ann Rymel; Last name spelled Rymel on death certificate -- Info from death certificate
Rymel Jesse -- Died 1923 Jan -- Aged 52y -- Info from news obit
Rymel Martha M -- 1842 May * - 1878 Mar 15 -- Aged 35y 10m 8d -- w/o I N Rymel (Rimel) -- Pic 1:

Pic 2:


Rimel Nuten -- 1845 Aug * - 1882 Jan 18 -- Aged 36y 5m 9d -- Pic 1:

Pic 2:



Roberts Alice Brady -- 1874 Sep 28 - 1951 Apr 15 -- Death certificate is dated 1951 Apr 06


Samuelson Lena B -- 1911 - 1972



Schaeffer Anna L -- Died 1880 Jun 27 -- Aged 1y 7m 3d -- s/o P & L Schaefer



Scheibner Arnold Carl -- 1907 Jul 19 - 1907 Jul 25 -- s/o C O & S L Scheibner -- Pic 1:

Pic 2:


Scheibner Marguerite E -- 1909 Feb 01 - 2002 Apr 06 -- Metal funeral home marker in 2002



Shepard Maud E -- 1882 Nov 04 - 1904 Dec 02 -- Pic 1:

Pic 2:



Simmons Goldie -- 1916 Feb 24 - 1983 Feb 12 -- Metal marker -- d/o Franklin & Alice O'Dell



Smith Frank J -- Died 1889 Apr 20 -- Buried here according to Cooper MoGenWeb site & Cooper Co. Death Recs
Smith Sallie -- Died 1889 Aug 27 -- w/o Jasper Smith; d/o Thomas Pate -- Info from news obit
Smith Sterling Price -- 1862 Jan 15 - 1904 May 12



Stover Dempsey -- 1929 Jul 31 - -- Pic 1:

Pic 2:


Stover Huber -- 1930 Feb 05 - 1988 Jul 20

-- s/o Omar & Verna Mae Musick Stover; m 1978 Jul 01 to Emma L Seifert; US Air Force Korea & Vietnam
Stover Omar -- 1898 Dec 04 - 1994 Mar 15 -- s/o Charles & Mary Ann Marsh Stover; m 1926 Sep 13 to Verna Mae Musick -- Pic 1:

Pic 2:


Stover Stanley -- 1943 May - 1944 Jun -- Pic 1:

Pic 2:


Stover Stewart -- 1938 Mar 13 - 2004 Jul 06 -- s/o Omar & Verna Musick Stover -- Pic 1:

Pic 2:


Stover Verna Musick -- 1902 May 24 - 1981 Sep 27 -- d/o Ferdinand & Ella Musick; m 1926 Sep 05 to Omar Stover -- Pic 1:

Pic 2:

Welker Peggy Marie -- 1947 Nov 01 - 2007 Mar 10

Whitaker Nora -- 1878 Jun 06 - 1915 Mar 20 -- maiden name Renfrow -- Info from death certificate

Wilcox Everett -- 1899 Oct 09 - 1900 Feb 16 -- Pic 1:

Pic 2:

Pic 3:


Wilcox Infant -- 1903 Aug 02 - 1903 Aug 14 -- Pic 1:

Pic 2:

Pic 3:


Wilcox Jane -- Died 1911



Williamson Ida McClanahan -- No marker; No dates -- w/o Isaac Williamson; Buried here according to Cooper MoGenWeb site
Williamson Isaac -- 1858 Mar 21 - 1935 Jun 12 -- Info from death certificate
Williamson James G -- 1892 Jan 20 - 1892 Sep 14 -- s/o I & I Williamson -- Pic 1:

Pic 2:

Williamson Parner -- No marker; No dates -- Buried here according to Cooper MoGenWeb site

Windsor George M -- 1906 Nov 16 - 1907 Jan 03 -- Pic 1:

Pic 2:


Windsor James Lawrence -- 1890 Mar 07 - 1953 Jun 23 -- s/o Alfred & Martha Windsor -- Info from death certificate
Windsor Julia Ann -- 1835 - 1900


Windsor Martha A -- 1864 May 08 - 1936 Jun 19 -- w/o A Marion Windsor; d/o J & A Renfrow



Windsor Philip Alfred Marion -- 1863 Dec 16 - 1931 Apr 12 -- h/o Martha Renfrow; Stone has 1862 birth year


Winsor Ethel -- 1904 - 1993

-- d/o Matt & Myrtle Keckevoet Olson; m (1) 1920 Jul 09 to Ollie Johnson; m (2) 1954 May 05 to Joe Windsor
---
---
Please go to the contact page with questions or comments about this web site
Copyright © 1997- Alan Sparks - Moniteau County MOGenWeb, All Rights Reserved.
Last modified: October 26, 2014