Moniteau County Missouri



German Methodist Cemetery listings
---
Directions to cemetery: Located west of Jamestown, next to Rt D, north of its junction with Cedron Church Road in Township 46, Range 15, Section 3.
Located here: 38.779323,-92.549598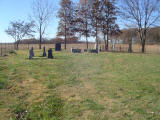 All photos and photos linked to from this page are Copyright © 1997- Alan Sparks - www.moniteau.net, All Rights Reserved.
Please do not use them on other websites (including Find-a-grave) without permission.
Original inscriptions read by Gloria Bookout and Mr and Mrs F T Ketterlin. Alan Sparks re-inventoried in 2000 and took pictures in November 2010.
---
* = Calculated Date based on age; d/o = daughter of; s/o = son of; w/o = wife of; m = married

= Click for picture

= Click for death certificate
Last Name, First Name, Middle, Birth Date, Death Date, Comments

B

Bodamer Frederich -- 1838 Nov 18 - 1861 Mar 10 -- Pic 1:

Pic 2:


Bodamer Jacob -- 1821 Mar 19 - 1863 Nov 06 -- Pic 1:

Pic 2:



Berger Elizabeth -- 1831 May 12 - 1898 Jun 25 -- Pic 1:

Pic 2:


Burger J Ehrhardt -- 1829 Nov 14 - 1901 Sep 17 -- Pic 1:

Pic 2:


Burger J Elias -- 1808 - 1845 Sep 02 -- Pic 1:

Pic 2:


Burger Nick -- 1846 Apr 14 - 1873 Sep 26 -- Pic 1:

Pic 2:

Don Carlos Robert -- 1848 Nov 17 - 1927 Jan 16 -- s/o Hamp Don Carlos -- Info from death certificate

Drechsel Anna M -- 1772 Apr 06 - 1846 Aug 02 -- Pic 1:

Pic 2:


Drechsel Johann -- 1782 Feb 04 - 1846 Dec 30 -- Pic 1:

Pic 2:

Pic 3:



G

Geminden Infant -- 1906 May 04 - 1906 May 04 -- s/o Frank & Katie Geminden -- Pic 1:

Pic 2:


Geminden Mabel -- 1901 Dec 23 - 1902 Oct -- s/o Frank & Katie Geminden -- Pic 1:

Pic 2:

H

Herrnleben Anna -- Died 1854


Herrnleben Christian -- 1797 * - 1870 Jan -- Aged 73y


Herrnleben John -- Died 1868 Aug



K

Knierim Carrie -- 1875 Jun 08 - 1902 Oct 05 -- d/o P & M Knierim -- Pic 1:

Pic 2:

Knierim Katie -- 1858 Dec 08 - 1915 Jul 30 -- w/o Phillip Knierim -- Pic 1:

Pic 2:


Kratzer Alma Magdelena -- 1913 Jul 29 - 1913 Aug 04 -- d/o Charles & Louisa Bodamer Kratzer -- Pic 1:

Pic 2:



Kratzer Lula F -- 1900 Jan 01 - 1900 Mar 28 -- d/o Charles & Lou Kratzer -- Pic 1:

Pic 2:



P

Plank Maria -- 1784 * - 1851 Nov 15 -- Aged 67y -- Pic 1:

Pic 2:



Z

Zimmerman John E -- 1870 Mar 17 - 1915 Sep 19



Zimmerman Mary L -- 1868 Dec 15 - 1869 Oct 14 -- d/o H & Elizabeth Zimmerman -- Pic 1:

Pic 2:


Zimmerman Minnie -- 1874 Aug 03 -- No death date listed

---
---
Please go to the contact page with questions or comments about this web site
Copyright © 1997- Alan Sparks - Moniteau County MOGenWeb, All Rights Reserved.
Last modified: October 28, 2014