Moniteau County Missouri



Karnes Cemetery listings
---
Located: at Corticelli, a small hamlet that consists of a Baptist Church and a few houses, at the junction of Rt C and Rt T, between High Point and Russellville.
Located here: 38.509975,-92.524796
Seen here in Google Street view
There is part of one stone on the northeast corner of this junction. The last name is Karne(s) and most of the dates are no longer a part of the stone.
---
The three left-most pictures above were sent to Betty Williamson some years ago. The two pictures on the right were taken by Alan Sparks on August 28, 2008.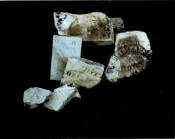 In an attempt to tease out any more information from the stone, the above picture has been "enhanced" but appears to only show Oct 9 for any visible date.
All photos and photos linked to from this page are Copyright © 1997- Alan Sparks - www.moniteau.net, All Rights Reserved.
Please do not use them on other websites (including Find-a-grave) without permission.
---
* = Calculated Date based on age; d/o = daughter of; s/o = son of; w/o = wife of; m = married
Last Name, First Name, Middle, Birth Date, Death Date, Comments

K

Karnes Charles -- Born Date Gone - Died ---- Oct 09 -- Just pieces of stone at Jct of Route C & T in Burris Fork Twp
An anonymous email received on Tuesday, June 16, 2015 states:
Charles Carnes born 1812 Knox County, TN d. 1878 Moniteau Co., MO. Charles was married to Anna Tindall (parents: Robert Tindall and Margaret McLain, who also moved from TN to Moniteau with Charles and Anna and their respective families circa 1846).

---
On page 66 (Dated May 1995) of the Recordings of Burris Fork, Harrison and Pilot Grove Township Cemeteries published by the Moniteau County Historical Society, it states:

In May 1995, Joan Thornton checked this stone and was told that originally it was in the Corticelli Baptist Church cemetery. The church is at this junction, however, most people will tell you there was no cemetery located there. Somewhere, I (Betty Williamson) read about the church and cemetery. We were also told that Karnes was a land baron in the area.
In checking the Moniteau County deed records I (Betty Williamson) found several deeds to:
Charles Karnes (NW1/4 of SE 1/4 of Section 1, Twp 43, Range 15). Certificate #35,719, Book 64, page 380.
Charles Karnes (SW 1/4 of NE 1/4 of Section 1, Twp 43, Range 15), 39 acres, certificate #30,769, book 64, page 382.
Robert H Karnes, Certificate of Register, Land office at Fayette (SE 1/4 of SW 1/4, Section 36, Twp 44, Range 15), 40 acres. 10 Mar 1854.
Robert Karnes (NE 1/4 of NW 1/4 of Section 1, Twp 43, Range 15), Certificate #34,934, book 76, page 118. 11 Nov 1896.
---
---
Please go to the contact page with questions or comments about this web site
Copyright © 1997- Alan Sparks - Moniteau County MOGenWeb, All Rights Reserved.
Last modified: June 18, 2015