Moniteau County Missouri



Old California City Cemetery listings
aka Old Town
---
Old California City Cemetery is the first public cemetery for the city of California and contains many unmarked graves. Information for several of the burials listed came from death certificates and newspaper obituaries. York Cemetery services straightened, reset and repaired many of the stones in 2006 along with reconstructing the crypt, pictured below.
This cemetery contains over 185 known burials with the earliest being Elizabeth Shankland in 1852.
Directions to cemetery: Located on the east edge of California near the site of the original Boonesborough settlement of the 1830s and 1840s. From Hwy 50, turn north on Industrial Park Drive between the city cemetery and California Manufacturing. Travel approximately 1/4 mile and the cemetery is on the left at the intersection of Industrial Park Dr and Jefferson City Rd after crossing the railroad tracks.
Located here: 38.631061,-92.54455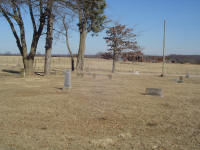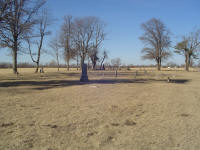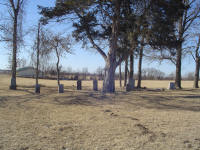 Top: Three general views of the cemetery.
Bottom, left: A view of the cemetery and old crypt taken in 2005.
Bottom, middle and right: Two more general views of the Old California City cemetery.
Notice the wide spacing as it appears many graves are unmarked.
Above, the only above ground crypt in this cemetery. The picture on the left was taken in November, 2005 and the one on the right in January, 2009.
All photos and photos linked to from this page are Copyright © 1997- Alan Sparks - www.moniteau.net, All Rights Reserved.
Please do not use them on other websites (including Find-a-grave) without permission.
---
[A] [B] [C] [D] [E] [F] [G] [H] [I] [J] [K] [L] [M] [N]

[O] [P] [Q] [R] [S] [T] [U] [V] [W] [X] [Y] [Z]

---
* = Calculated Date based on age; d/o = daughter of; s/o = son of; w/o = wife of; m = married
Info from death certificate = the information is from a death certificate and no stone was found for the individual.
Info from news obit = the information is from a newspaper obituary and no stone was found for the individual.
Info from 1883-1894 Moniteau Co Birth & Death Rec = the information is from the county death records and no stone was found for the individual.

= Click for picture

= Click for death certificate
Last Name, First Name, Middle, Birth Date, Death Date, Comments
Unknown/unidentifiable stones
Ackerman Daniel Lafayette -- 1842 Jun 15 - 1930 Nov 27 -- s/o Joseph & Mary Stuckey Ackerman -- Pic 1:

Pic 2:


Ackerman Margaret -- 1844 May 18 - 1905 Feb 20 -- Death year from obituary; Stone has 1904 death year -- Pic 1:

Pic 2:


Ackerman Rosanna -- 1850 Jul 25 - 1908 Jan 29 -- Pic 1:

Pic 2:



Alger Cora -- 1876 Feb 08 - 1876 Apr 02 -- d/o G W & M C Alger -- Pic 1:

Pic 2:


Alger Luther E -- 1877 May 22 - 1878 Mar 22 -- s/o G W & M C Alger -- Pic 1:

Pic 2:



Ansell Jacob -- 1810 Mar 27 - 1877 Jan 06 -- Pic 1:

Pic 2:


Ansell Margaret A -- 1835 Apr 26 - 1902 Apr 19 -- Pic 1:

Pic 2:



Apperson Doctor Alexander -- 1791 Mar 16 - 1865 Dec 11 -- bible record says he was born 1792 Mar 28 -- Pic 1:

Pic 2:


Apperson Eliza Virginia -- 1850 Oct 22 - 1908 Apr 18 -- w/o James Apperson -- Pic 1:

Pic 2:


Apperson James Franklin -- 1845 Sep 07 - 1904 Dec 05 -- Pic 1:

Pic 2:


Apperson Mansfield -- 1822 Mar 24 - 1886 Jun 17 -- Mo Vols Mexican War -- Pic 1:

Pic 2:


Apperson Mary Ruth -- 1796 Jul 01 - 1854 Jul 08 -- Pic 1:

Pic 2:

Pic 3:

-- w/o Doctor Apperson; Broken stone, dates not visible; maiden name Mitchell
Apperson Paul P -- 1883 May 21 - 1910 Jul 15 -- s/o James & Eliza Ansell Apperson -- Pic 1:

Pic 2:

Pic 3:


Baldwin Alonzo V -- 1877 Apr 21 - 1902 Aug 14 -- probably died in 1892 instead of 1902 as the stone reads (See news obit) -- Pic 1:

Pic 2:

Ballad Clara Bell -- 1877 Dec 19 - 1878 Jan 01 -- d/o G L & Martha Ballad -- Pic 1:

Pic 2:

Belo George Sr -- 1809 Sep 11 - 1884 Nov 27 -- Info from news obit
Bevell Clarence Eugene -- 1935 Oct 15 - 1935 Oct 17 -- s/o Clarence & Elizabeth Bevell -- Info from death certificate

Blackburn -- Died 1897 Mar 16 -- d/o Charles Blackburn -- Info from news obit
Bonney Alice -- 1860 Jan - 1900 Dec 22 -- w/o William Bonney -- birth date from 1900 Census -- Info from news obit
Bonney William -- 1856 Jan - 1904 Dec 14 -- birth date from 1900 census -- Info from news obit
Brizendine Abner J -- 1868 Aug 22 - 1934 May 13


Brizendine Augusta -- 1885 Apr 06 - 1949 Mar 10 -- m 1905 Jan 17 to Jesse M Brizendine; d/o Ephraim & D Wyckoff



Brizendine Baby Boy -- 1961 May 08 - 1961 May 08
Brizendine Edward D -- 1859 - 1907 Dec 24


Brizendine Eunice Elizabeth -- 1925 Jan 24 - 1936 Aug 21 -- d/o Jess Brizendine; 1924 birth year on death certificate



Brizendine Frances Arlene -- 1955 Feb 02 - 1955 Feb 02 -- d/o Ira Brizendine -- Info from news obit

Brizendine Harold Gay -- 1956 Jan 29 - 1956 Jan 30 -- s/o Ira & Viola Brizendine -- Info from death certificate

Brizendine Ira E -- 1895 Aug 08 - 1971 Feb 25 -- Mo Pvt 338 Field Art WWI


Brizendine Jesse M -- 1881 Feb 13 - 1960 Jul 11 -- m 1903 Jan 17 to Augusta Wyckoff


Brizendine Julia Ann -- 1863 Feb 11 - 1942 Jan 23 -- m 1880 May 20 to Edward Brizendine



Brizendine Lillian -- Died 1909 Dec 02 -- Aged 19y -- Info from news obit
Brizendine Melvin -- 1909 - 1909 Apr 30 -- Aged 5 weeks


Brizendine Minnie Gibbs -- 1865 Jul 30 - 1936 Dec 02 -- d/o Abner & Julia Shadwick Brizendine; 1870 birth year on death certificate



Brizendine Susan -- 1832 Aug 11 - 1915 May 16 -- Info from death certificate

Burger Margaret -- 1779 Mar 25 - 1853 Jan 21 -- w/o Michael Burger

Bush Enoch -- 1814 Nov 29 - 1889 Apr 09 -- Pic 1:

Pic 2:


Bush Infant -- 1885 Jun 27 - 1885 Jul 05 -- s/o M P & Alice Bush -- Pic 1:

Pic 2:

Busker George -- Died 1902 Jul 30 -- Aged abt 35y -- Info from news obit
Busker Mrs George -- Died 1902 Jul 07 -- Aged abt 37y -- Info from news obit

Bybee Martha Belle -- 1855 Jan 06 - 1910 Mar 03 -- Pic 1:

Pic 2:


-- m 1876 to Charles Baldwin; m 1891 Aug to B N Bybee; d/o Bennet & Ann Apperson
Byrd Elisha Peter -- 1867 May 27 - 1922 Sep 22 -- s/o Mitchell Byrd; h/o Eliza Byrd -- Info from news obit & death certificate

Chandler Catherine -- Died 1899 Oct 29 -- w/o Jack Chandler; maiden name Craig -- Info from news obit
Cooper Abbah Clarian -- 1880 Jan 23 - 1908 Oct 11 -- Pic 1:

Pic 2:


Cooper Fern -- 1912 Aug 26 - 1913 Apr 17 -- Aged 7m -- d/o Lace & Lillie Ogden Cooper -- Info from news obit & death certificate

Cooper John Patrick -- 1854 May 15 - 1928 Mar 17 -- m 1875 Dec 02 to Nancy Apperson -- Pic 1:

Pic 2:



Cooper Nancy La Dora -- 1860 Jun 28 - 1925 May 26 -- Pic 1:

Pic 2:


-- m 1875 Dec 02 to John Cooper; d/o Bennet Apperson; Stone has 1926 death year
Cooper Ray -- 1911 May 19 - 1923 Nov 17 -- Aged 12y -- s/o Lacy & Lillie Ogden Cooper -- Info from news obit & death certificate


Crawford A J -- 1835 Mar 12 - 1902 Aug 27 -- Pic 1:

Pic 2:


Crawford Arthur -- 1875 Sep 27 - 1913 Nov 25 -- s/o E H & Frances Mayhew Crawford -- Pic 1:

Pic 2:



Crawford Edwin H Sr -- 1835 Aug 10 - 1928 Mar 07 -- Pic 1:

Pic 2:



Crawford Frances Mayhugh -- 1850 May 13 - 1929 Oct 13 -- d/o Louis & Sarah Mayhew; m 1865 to Ed Crawford -- Pic 1:

Pic 2:



Crawford James M -- 1842 - 1885 -- Pic 1:

Pic 2:


Crawford James M -- 1882 - 1898


Crawford Mary E -- 1837 Jan 07 - 1904 Nov 01 -- w/o A J Crawford -- Pic 1:

Pic 2:


Crawford Mary J -- 1849 Dec 27 - 1936 Mar 22 -- m 1865 Sep 05 to James Crawford; d/o Joe Garrett -- Pic 1:

Pic 2:


Crawford Phinellie -- 1812 * - 1894 Mar 12 -- Aged 82y -- Info from news obit Mar 22, 1894 The Newspaper
Crawford William Daniel -- 1834 May 28 - 1911 Sep 07 -- Aged 78y -- s/o Samuel Crawford; died south of California -- Info from news obit & death certificate

Dickson Francis M -- 1819 Aug 02 - 1887 Sep 26 -- w/o J C Dickson -- Pic 1:

Pic 2:

Pic 3:


Dickson Jackson Carroll -- 1817 Jun 06 - 1884 Jun 14 -- Pic 1:

Pic 2:



E
Eads Sarah C -- 1856 * - 1863 Apr 10 -- Aged 7y -- Pic 1:

Pic 2:

Pic 3:

Eads W W -- 1825 * - 1862 May 13 -- Aged 37y -- Pic 1:

Pic 2:

Flippin Bessie D -- 1914 Dec 17 - 1994 Feb 01 -- Pic 1:

Pic 2:


Flippin James -- 1961 Sep 18 - 1961 Sep 18 -- s/o Joseph Flippin
Flippin John D William -- 1938 Dec 14 - 1939 Jan 05 -- Aged 3w -- s/o William & Bessie Dillon Flippin -- Info from news obit

Flippin Robert E -- 1949 May 18 - 2008 May 28 -- s/o William & Bessie Flippin -- Pic 1:

Pic 2:

Flippin William G -- 1919 Jul 29 - 1981 Jun 11 -- Pic 1:

Pic 2:



Foiles Daniel -- 1816 Oct - 1900 Nov 26 -- Pic 1:

Pic 2:

Foiles Dudie -- Died 1887 Oct 31 -- Aged abt 4y -- d/o Frank & Mary Foiles -- Info from news obit
Foiles Infant -- Died 1893 Feb 05 -- d/o Frank Foiles -- Info from news obit Feb 8, 1893 Herald
Gamble Henry -- Died 1880 Apr 09 -- Aged 9m 9d -- s/o M M & Catharine -- Pic 1:

Pic 2:

Gray William -- Died 1867 Aug 07 -- Aged 13y -- died from burns received when clothing caught fire -- Info from news obit
Hasty Corbin -- Died 1887 Nov 13 -- Aged abt 19y -- Info from news obit
Hayes Laura J -- 1847 Jul 08 - 1900 Nov 03 -- w/o Thomas Hayes -- Pic 1:

Pic 2:

Pic 3:


Hayes Thomas Charles -- 1845 - 1900 Nov 08 -- Info from news obit Nov 9, 1900 Herald

Heald Ira -- 1821 Apr 07 - 1893 Jan 28 -- Stone states born in Chester Vt; Co B 23 Regiment Mo Inf -- Pic 1:

Pic 2:

Pic 3:


Heald Susan N -- 1818 Oct 26 - 1893 Jan 21 -- Stone states born in Chester Vt -- Pic 1:

Pic 2:

Hestand Henry -- Died 1897 Jul -- Aged abt 50y -- s/o William Hestand -- Info from news obit
Hestand Martha -- Died 1890 Feb 06 -- Aged abt 65y -- w/o William Hestand -- Info from news obit
Hestand Sarah Caroline -- Died 1882 May 21 -- Aged 34y -- Info from news obit
Hestand William -- Died 1884 Apr 26 -- Aged abt 65y -- Info from news obit
Hibdon Harold Franklin -- 1945 Jan 25 - 1945 Jan 30 -- s/o Edward & Rose Hibdon -- Info from death certificate

Higgins Infant -- Died 1904 Mar 24 -- c/o Sam Higgins -- Info from news obit

Hoback Basil -- 1889 Mar 07 - 1912 Oct 11 -- Pic 1:

Pic 2:




Houk E P -- 1872 Aug 29 - 1934 Nov 20 -- Pic 1:

Pic 2:

Hutchison Alie May -- Died 1886 Nov 05 -- Aged 1y 5m -- Info from 1883-1894 Moniteau Co Birth & Death Rec
Inman Albert -- 1874 Apr 26 - 1874 Aug 31 -- s/o A J & E Inman -- Pic 1:

Pic 2:


Inman Charles J -- 1896 Dec 18 - 1897 Feb 07 -- s/o Edward & Viola Inman -- Pic 1:

Pic 2:

Pic 3:

Pic 4:

Pic 5:


Inman Eliza -- 1864 Mar 11 - 1922 Jan 25 -- 1st w/o James Inman; 2nd w/o Elisha Byrd; maiden name Chandler



Inman Flora -- 1895 May 17 -- Aged abt 20y -- d/o James Inman -- Info from news obit
Inman Frank -- 1898 Mar 20 -- Aged 10m 24d -- s/o William Inman -- Info from news obit
Inman Infant -- Died 1893 Jun 26 -- c/o James Inman -- Info from news obit Jun 29 1893 The Newspaper
Inman James -- Died 1896 Nov 29 -- Aged abt 55y -- Co C 77th Ohio Inf; No dates on stone -- Pic 1:

Pic 2:


Inman Jessie Mae -- Died 1904 May 08 -- Aged 13y 4m 19d -- Info from news obit
Inman Leota -- Died 1894 Feb 20 -- Aged abt 22y -- d/o James Inman -- Info from news obit
Inman Lucy -- Died 1890 Jun 24 -- Aged 27y -- w/o William Inman; d/o David Howard -- Info from news obit
Inman May -- Died 1898 Feb 26 -- Aged abt 25y -- w/o William Inman; maiden name Sloanker -- Info from news obit
Inman Prentiss Byron -- 1892 Jul 17 - 1896 Feb 12 -- s/o William Inman -- Info from news obit Feb 20, 1896 The Newspaper
Inman Stella Roberta -- 1876 Feb 17 - 1895 Jan 15 -- d/o James Inman -- Info from news obit
Inman Sylvester -- Died 1895 Jan 22 -- Aged 22y -- s/o James Inman -- Info from news obit
Jackson John -- 1905 Sep 06 - 1927 Mar 30 -- s/o William & Pearlie Flippin Jackson -- Info from death certificate

Jackson Pearlie -- 1865 Feb 25 - 1912 Mar 25 -- w/o William Jackson -- Info from death certificate

Jackson William A -- Died 1920 Feb 17 -- Aged 72y -- died from blood poisoning -- Info from death certificate

Jobe Ann -- 1809 Jan 06 - 1878 Oct 18 -- w/o B Jobe -- Pic 1:

Pic 2:


Jobe Bartholomew -- 1806 Jun 06 - 1886 Mar 02 -- Pic 1:

Pic 2:


Jobe Elizabeth -- Died 1885 Aug 17 -- Aged 25y 11m 5d -- w/o H Y Jobe -- Pic 1:

Pic 2:



Jones Eddie -- 1884 Oct * - 1887 Oct 31 -- Pic 1:

Pic 2:

-- Aged 3y 6d -- s/o P W & C Jones; See obit in 03 Nov 1887 California Democrat (gives first name)
Jones Infant -- 1876 Feb 23 - 1876 Feb 26 -- Aged 3d -- Infant of P W & S Jones -- Pic 1:

Pic 2:


Jones Sam -- 1886 Oct 01 - 1910 Sep 21 -- m 1910 Feb to Inez Hughes -- Pic 1:

Pic 2:


Kelly Alcindia -- 1824 Jan 19 - 1916 Sep 06

-- m 1st to William Otte; m 2nd in 1849 to James Kelly; maiden name McNeal -- Info from news obit
Legg John R (Capt) -- Died 1894 Apr 01 -- Co F 43 En Mo Mil; h/o Martha Richardson -- Pic 1:

Pic 2:

McCaig Carl B -- 1914 Dec 30 - 1914 Dec 30 -- Pic 1:

Pic 2:


McCaig Chester -- 1913 - 2001


McCaig George -- 1864 May 07 - 1934 Mar 27 -- h/o Lydia Ackerman Wilson -- Pic 1:

Pic 2:



McCaig Lydia A -- 1879 Sep 25 - 1969 Mar 28 -- m 1st 1911 to George Wilson; m 2nd to George McCaig; d/o L & R Ackerman
Metts Mary Ann -- Died 1923 Jun -- Aged 75y -- Info from news obit
Metts Samuel E -- 1844 Mar 22 - 1936 Jul 24 -- Info from news obit

Meyer Lenora C -- 1868 Mar 03 - 1893 Apr 14 -- w/o H C L Meyer; d/o A J Crawford -- Pic 1:

Pic 2:


Meyer Robert J -- 1889 Jan 31 - 1891 Sep 08 -- s/o M C & L G Meyer -- Pic 1:

Pic 2:

Morgan Sallie -- Died 1895 Jul 15 -- Aged 9m -- d/o William & Sarah Legg Morgan -- Info from news obit Jul 18, 1895 The Newspaper
Morgan Sarah F "Sallie" -- Died 1894 Oct 23 -- Aged abt 33y -- w/o William Morgan; d/o John Legg
Morgan William -- Died 1895 May 07 -- Info from news obit May 9, 1895 The Newspaper
Nelson Letty -- Died 1886 Jul 30 -- Aged abt 31y -- w/o George Nelson; d/o John Inman Sr -- Info from news obit
Parker Catharine -- Died 1882 Feb 09 -- Aged 73y -- Info from news obit
Patterson Lesley H -- 1913 Jul 28 - 1914 Aug 12 -- s/o J W & Ethel Patterson -- Info from death certificate

Perch Mina -- Died 1902 May -- Aged 48y -- Info from news obit
Perch Nellie -- Died 1895 Jun -- Info from news obit
Portwood George W -- 1863 Oct 09 - 1908 Dec 29 -- Pic 1:

Pic 2:

Reed Amanda Jane -- 1860 Dec 12 - 1929 Dec 10 -- Aged 69y -- w/o Pleas Reed -- Info from news obit & death certificate

Reed Pleasant William -- 1858 Aug 27 - 1942 Feb 26 -- Aged 83y -- m 1880 Aug 01 to Amanda Cooper -- Info from news obit

Roberts Lizzie -- 1853 - 1908 -- Pic 1:

Pic 2:

Pic 3:


Roberts Washington -- Died 1937 Aug 10 -- Aged 78y -- Info from death certificate


Roll Frederick William -- 1849 Oct 18 - 1935 Nov 03 -- dates from news obit


Roll Jane -- 1848 Jun 23 - 1921 Jun 23 -- maiden name McClanahan; dates from news obit -- Info from news obit & death certificate


Saltzaber Lula May -- 1899 Feb 22 - 1902 Jun 11 -- d/o W H & M L Saltzaber -- Pic 1:

Pic 2:

Sanders Jessie Elizabeth -- 1897 Sep 24 - 1961 Feb 04 -- w/o William Sanders; d/o Joseph & Molly Simmons -- Info from news obit & death certificate


Shankland Elizabeth -- 1800 Apr * - 1852 Apr 17 -- Aged 52y 6d -- w/o R M Shankland -- Pic 1:

Pic 2:



Shikles Golder H -- 1894 - 1895 Jan 28 -- Aged 8m 21d -- Dates from news obit


Shikles Hattie -- 1875 - 1901 Mar 26



Speckhals Mary -- 1939 Nov 15 - 1993 Feb 28 -- m 1965 to William Speckhals; d/o W & B Flippin -- Pic 1:

Pic 2:

Pic 3:

Talley Robert Austin -- Died 1890 Jan 30 -- Aged 4m 20d -- s/o Robert & Sarepta Talley -- Info from news obit
Talley Robert Graham -- Died 1925 May 30 -- Aged 68y 3m 20d -- h/o Sarepta Street -- Info from death certificate

Talley Sarepta -- 1848 Sep 12 - 1917 Jul 12 -- maiden name Street -- Info from death certificate

Thomas Family Stones

Thomas Amy R -- 1814 Mar 04 - 1892 Mar 05 -- w/o Samuel B Thomas -- Pic 1:

Pic 2:


Thomas Bert F -- 1889 Nov 19 - 1894 Mar 22 -- Pic 1:

Pic 2:


Thomas Infant Son -- 1904 Feb 17 - 1904 Feb 21 -- Pic 1:

Pic 2:


Thomas John -- 1827 * - 1877 Mar 16 -- Aged 50y 2m 1d -- Pic 1:

Pic 2:


Thomas Lydia Veola -- 1846 Nov 30 - 1911 Oct 02 -- d/o Samuel & Amy Thomas -- Pic 1:

Pic 2:



Thomas Maria -- 1841 * - 1884 Oct 24 -- Aged 43y 3m 21d -- Pic 1:

Pic 2:


Thomas Samuel B -- 1797 Jun 10 - 1885 Mar 11 -- Pic 1:

Pic 2:


Thomas William Penn -- 1856 Sep 05 - 1934 Jul 24 -- s/o Samuel & Amy Thomas -- Pic 1:

Pic 2:


Thompson Cordelia -- 1850 Aug 20 - 1932 Dec 20 -- m 1868 to John Blalock; m 1880 to J A Thompson

Thompson James A -- Died 1930 Sep 15 -- Aged 84y -- h/o Cordelia Blalock -- Info from news obit


Thornton Amie B -- 1889 Apr * - 1895 Oct 10 -- Aged 6y 6m -- d/o George & Louisa Thornton -- Pic 1:

Pic 2:



Todd Elizabeth A -- Died 1873 Apr 06 -- Aged Abt 45y -- Pic 1:

Pic 2:

Pic 3:


Todd William H -- Died 1860 Feb 12 -- Aged 26y 1m 12d -- Pic 1:

Pic 2:

Pic 3:

Pic 4:

Pic 5:



Tooms Benjamin Franklin -- 1870 Dec 19 - 1958 Apr 19 -- m 1909 Sep 09 to Louise Thompson -- Info from news obit
Tooms John J -- Co F S Prov En Mo Mil; No dates -- Pic 1:

Pic 2:

Pic 3:


Toomes Rebecca L -- 1865 Jul 02 - 1910 Mar 25




Tucker Amanda -- 1860 May 22 - 1933 Jul 29 -- d/o Abner Brizendine; w/o James Tucker -- Pic 1:

Pic 2:



Tucker E K -- Cem rec lists no dates
Tucker James -- 1856 Apr 01 - 1942 Oct 25 -- Aged 86y -- s/o Isaac Tucker -- Info from news obit & death certificate

Wells Barnett -- 1829 Mar 12 - 1911 Mar 29 -- Info from death certificate

White George -- Died 1898 Sep 10 -- Aged abt 42y -- Info from news obit
Williams Family Stones -- Pic 1:

Pic 2:

Pic 3:

Williams Barbara Rachel -- 1865 Oct 15 - 1946 Feb 28 -- m 1879 Feb 05 to Thomas Williams; d/o J & L Chambers -- Info from news obit


Williams Christopher -- Died 1917 Apr 01 -- Aged 80y -- Info from news obit Apr 5, 1917 Herald
Williams Clarence A -- 1921 Jan 22 - 1925 Jun 11 -- s/o Elmer Williams -- Info from death certificate

Williams Davis -- Died 1908 Aug 17 -- Aged 62y -- Co K 11 Mo Inf -- Pic 1:

Pic 2:

Pic 3:


Williams Elmer -- 1880 Mar 05 - 1957 Mar 05 -- m 1st to Nora Inman; m 2nd 1938 to Agnes Bond


Williams Ervin -- 1905 Dec 14 - 1945 Feb 10 -- s/o Griffin & Barbara Williams



Williams Griffin -- Name inscribed in concrete; No Dates


Williams Josephine -- 1842 Aug 14 - 1931 Feb 22 -- m 1866 to Davis Williams; d/o Tom Heather

Williams Loyd A -- 1923 Nov 17 - 1945 May 01 -- m 1942 Jan 24 to Lottie Hefflin; Mo Cpl Field Art WWII


Williams Mildred -- 1910 Oct 04 - 1915 Jul 17 -- Aged 4y 9m 13d -- d/o Elmer Williams -- Info from news obit & death certificate

Williams Nora E -- 1885 Mar 24 - 1936 Apr 20 -- Dates from death certificate -- Pic 1:

Pic 2:



Williams Thomas Griffin -- 1855 Jul 10 - 1928 Jan 02 -- s/o William & Kathryn Murray Williams; m 1877 Feb 05 to Barbara Chambers


Wilson Fred 1892 Dec 12 1962 May 28 s/o William & Mary Clark Wilson death certificate
Wilson Mary Francis -- 1852 Sep 25 - 1926 Apr 27 -- w/o Harrison Wilson; d/o James Clark -- Info from death certificate

Wilson William Harrison -- 1846 Jun 25 - 1934 Mar 04 -- m 1870 to Mary Clark


Wingate Infant -- 1900 Jan 10 - 1900 Jan 10 -- s/o W K & Edith Wingate


Wingate Thomas -- 1844 Aug 25 - 1901 Nov 03 -- Info from news obit Nov 7, 1901 Democrat
Wood Henry -- 1843 * - 1888 Mar 16 -- Info from Mar 22, 1888 California Democrat obit

Amanda and Job Woodard's surname is spelled Woodeard on the stones
Woodard Family Stones

Woodard Amanda Ann -- 1826 Mar 22 - 1902 Apr 25 -- w/o Job Woodard -- Pic 1:

Pic 2:

Pic 3:

Woodard Arthur L -- 1877 - 1878


Woodard Job -- 1816 Jun 14 - 1888 Sep 23 -- Pic 1:

Pic 2:

Pic 3:

Woodard Larance T -- 1884 - 1887



Y
Yeager Amanda A -- 1872 Jan 10 - 1900 Nov 04 -- w/o G W Yeager -- Pic 1:

Pic 2:

Pic 3:

---
---
Please go to the contact page with questions or comments about this web site
Copyright © 1997- Alan Sparks - Moniteau County MOGenWeb, All Rights Reserved.
Last modified: November 09, 2014