Moniteau County Missouri



Old Jobe Cemetery listings
---
Editor's note: In the Listings of Walker Township cemeteries published by the Moniteau County Historical Society there are two Old Jobe cemeteries noted by the numbers 89 and 15. Based on my personal research on the Jobe family, it is my belief these two cemeteries are one in the same. In fact, nearly all the listings in both cemeteries are identical.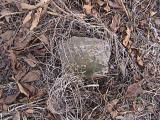 All photos and photos linked to from this page are Copyright © 1997- Alan Sparks - www.moniteau.net, All Rights Reserved.
Please do not use them on other websites (including Find-a-grave) without permission.
There is also a Jobe cemetery within a couple miles of this cemetery that contains Jobe, Hartley, Vaughn and Birdsong burials.
Directions to cemetery: The Old Jobe cemetery is located north of California approximately 1/4-3/8 mile east of Rt O and 1/4-3/8 mile south of Potato Chip Road. It is in a classic location for an old family cemetery: near the top of a hill, in the middle of a field on private property. It is fenced but not regularly maintained. Please always respect others' property rights and ask permission to visit this cemetery. The owner of the property lives on the east side of Rt O at this location. They will have to show or give directions to this cemetery in order to find it.
GPS Location: Near 38.668011,-92.57826
---
* = Calculated Date based on age; d/o = daughter of; s/o = son of; w/o = wife of; m = married

= Click for picture
Last Name, First Name, Middle, Birth Date, Death Date, Comments
Jobe Della D -- 1886 Oct * - 1890 Dec 11 -- Aged 4y 2m 7d -- d/o Jacob & Rebecca Jobe

Jobe Infant -- s/o B R C & S G Jobe


Jobe Infant -- s/o B R C & S G Jobe


Jobe Infant -- Died 1882 Mar 23 -- d/o B R C & S G Jobe; Death date from news obit


Jobe Infant -- d/o B R C & S G Jobe


Jobe Infant -- d/o B R C & S G Jobe


Jobe Infant -- d/o B R C & S G Jobe


Jobe Jacob C -- 1878 Jun 10 - 1884 Jan 01 -- s/o B R C & S G Jobe


Jobe William T -- 1883 Dec * - 1890 Jun 29 -- Aged 6y 6m 13d

---
---
Please go to the contact page with questions or comments about this web site
Copyright © 1997- Alan Sparks - Moniteau County MOGenWeb, All Rights Reserved.
Last modified: November 09, 2014