Renfrow Cemetery listings
---
Located west of Lupus in Township 47, Range 15, Section 1.
All photos and photos linked to from this page are Copyright © 1997- Alan Sparks - www.moniteau.net, All Rights Reserved.
Please do not use them on other websites (including Find-a-grave) without permission.
James Albin and Alan Sparks visited this cemetery April 15, 2008 when the pictures were taken.
Location of cemetery: This cemetery is set in a wooded area at the top of a steep hill near the intersection of East Splice Creek Road and Copp Chapel Road.
Located near here: 38.84698,-92.505484
James Pierce Renfrow owned and operated a mill on the Petite Saline Creek in northern Moniteau County.
A lengthy email from Carolyn Howelman Baltz in April 2008 explains the history of this mill and the Renfro/Renfrow and Buchanan families.
It follows the listings at the bottom of this page.
A genealogy of this family can be found here and listed below.
---
* = Calculated Date based on age; d/o = daughter of; s/o = son of; w/o = wife of; m = married

= Click for picture

= Click for death certificate
Last Name, First Name, Middle, Birth Date, Death Date, Comments

Renfrow Alamanza -- 1825 May 08 - 1872 Sep 14 -- w/o J P Renfrow


Renfrow Correna M -- 1857 Mar 26 - 1861 Dec 18 -- d/o J P & A Renfrow -- Pic 1:

Pic 2:

Pic 3:


Renfrow John -- 1848 Jan 31 - 1877 Nov -- s/o J P & A Renfrow -- Pic 1:

Pic 2:

Pic 3:


Renfrow James Pierce Sr -- 1821 Oct 01 - 1911 Feb 03 -- Death date from death certificate -- Pic 1:

Pic 2:

Pic 3:


---
Name: James Pierce Renfrow
Birth: 1 OCT 1821 in Sevier Co., TN
Death: 3 FEB 1911 in Moniteau Co., MO
Burial: 1911 Renfrow Cemetery, Lupus, Moniteau Co., MO
Note:
1860 Census Twp 47, Range 14, Moniteau Co., MO Jamestown PO 11 June 1860 by G W White P 30
215-1152 J P Renfrow 40 M Farmer 1200 TN (James Pierce)
A 35 F MO (Alamanza)
John 12 M MO
Elizabeth Jane 11 F MO
M 9 F MO (Manima)
J 8 F MO (Julia)
Andrew 5 M MO
Correna 3 M MO
MA 6/12 M MO (Manzy Alamanza)
Virginia 17 F MO

1910 Census Linn Twp, Moniteau Co., MO Dist 94 21 Apr 1910 by W C Weison sheet 3A
50-50 Renfrow, A D Head W M 55 M1 3 MO TN MO Farmer (Andrew David)
Linnie L Wife W F 46 M3 3 4
Clarence Son W M 15 S MO MO MO Laborer farm
Dorry Dau W F 14 S MO MO MO
Dave Eugene Son W M 12 S MO MO MO
Oswald, Anna S-Dau W F 14 S MO GER MO
Renfrow, James P Father W M 88 Wd TN TN TN

Father: John Renfro b: ABT 1800 in Eastern TN
Mother: Charlotte Pierce b: 10 APR 1800 in Green Co., TN

Marriage 1 Amelia Stevens
Children
James R Renfrow b: ABT 1842

Virginia Renfrow b: 1843

Marriage 2 Alamanza Wood b: 1825 in Cole now Moniteau Co., MO
Children
---
Email from Carolyn Howelman Baltz to Jim Martin dated April 1, 2008: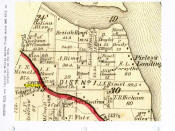 James Buchanan and the Renfrow Mill
The Renfrow/Renfro Mill was owned by James Pierce Renfrow (1822-1911). It was located along the Petite Saline Creek at the northwest corner of Moniteau County, Missouri, in Linn township. It was established there about 1878. The mill under the name Renfrow is not shown on the 1876 Moniteau County plat map, but the Mill named S & G on the Petite Saline Creek appears to be in the same location. I believe Mr. Renfrow purchased the S & G mill and refitted it with different machinery sometime after 1876 and prior to the 1880 census. At that time Mr. Renfrow and my great-great grandfather, James Buchanan, his employee, were no longer listed as farmers as they had been on earlier census reports. In 1876 there was a small village called Renfro near the location of the old mill which is also shown on the old historic map of Linn Township.
The Renfrow mill was a very large steam powered mill with a huge steam boiler. My ancestor, James Buchanan, working as fireman, died as a result of injuries suffered when the boiler exploded in late May, 1885. I believe the accident happened on or about May 22, 1885, based on two newspaper articles of that era. He was severely scalded and died 19 days later on June 11, 1885. James Renfrow, the owner, was also injured in this accident.
James Buchanan was buried in a plot provided by the Renfrow family, now called Renfrow #2 graveyard. This cemetery is located west of Lupus, Mo. Linn township, Range 15, Section 24. It contains 15 rough unmarked stones. The Renfrow Family cemetery, known as Renfrow #1, occupies section 1 and contains four Renfrow burials, including that of James P. Renfrow, his wife and two of their children.
To date, I have no information about the mill re-opening or not, after the 1885 explosion. When James Renfrow died in 1911, his occupation was still listed as Mill Wright; so it appears he continued to work as a Mill operator until his retirement. James Buchanan's wife, Nancy, and six children moved to Miller County after the accident, where she lived near her father, Joseph Hall, who helped her rear the children. Columbus Buchanan, her eldest son, also worked to provide for his mother and young siblings. Columbus married Frances (Fanny) Buchanan. They were parents of five children inculding my grandmother, Zida Buchanan (Mrs. David Dane).
Mr. Renfrow purchased the equipment for the mill from General R. M. Hatton of Boone County, Missouri and moved the boiler and working mill equipment to Moniteau County about 1878, where it was in operation until the accident in 1885. This equipment was originally part of a saw mill that was built in the year 1841 in Boone County, Missouri by William Stapleton, a wealthy young man from Howard county, and another investor named Hersh. William Stapleton's mill was located 7 miles west of Columbia, Missouri on Callaham creek near the junction of Perche and Callaham waterways in Boone County, Mo. The Stapleton mill was about 1/2 mile south of the older Dixon mill which was a horse driven water mill. When completed, Stapleton's mill was the largest and most complete steam powered mill in Boone County, Mo. The Stapleton Saw Mill furnished much of the wood for the building of the University of Missouri. Mr. Stapleton did not prosper; so he sold the mill and 500 acres to General R. M. Hatton, who in turn sold the large steam mill to the Sexton brothers who operated the mill for several years. They later sold the mill equipment to James Renfrow, who moved the large boiler and other mill equipment to Moniteau County. The same equipment had earlier been in use at Rockbridge Paper Mill, Boone County. It is clear the machinery was well used by the time James Renfrow made the purchase to set up his mill in Moniteau County, Missouri. Clearly the boiler was old and may have been weakened through years of use. This could be the reason for the explosion that ultimately killed James Buchanan. There are several references to Mr. Stapleton and his mill equipment in the Boone County, Missouri history published in 1882.
James and Nancy Buchanan and their young son, Columbus, came by covered wagon to Moniteau County from Jefferson County, Tennessee about 1858. They lived in Linn Township from 1858 until James died in 1885. They received mail at nearby Jamestown, Mo. Six of their seven children were born in Moniteau County, Mo.
Transcripts of the 1885 Moniteau County death records include the following information about James Buchanan:
Buckhannan, Jas. Died June 11, 1885 at 5 PM. 45 years, 9 months, 14 days old. Married, Male, White, American, Born: Missouri. Lifetime resident. Died: Linn Township. Cause: This man was burned to death by the explosion of Renfrows Mill. Buried: June 12, 1885, Renfrow graveyard. Undertaker: Meyer Brothers of Jamestown. S. M. Teel MD of Prairie Home (Cooper Co.). Death reported June 23, 1885.
The doctor from another county probably did not know the family well which accounts for some errors in the information, including age and place of birth for James Buchanan. This entry contains some useful facts, however.
For the record:
James Buchanan was born in North Carolina, not Missouri. He was 50 years old, not 45 at the time of death. Had he lived until his birthday, he would have been 51 years of age in August, 1885. James was born August 28, 1834 in North Carolina. He died June 11, 1885, Linn Township, Moniteau County, Mo. He is buried in Renfrow Graveyard #2. James Buchanan was married in Jefferson County, Tennessee in 1855. He came by covered wagon to Moniteau County, Missouri in 1858 with his wife, Nancy Hall Buchanan and his young son, Columbus G. Buchanan. They settled near Jamestown in Linn Township. Here they were listed on the 1860, 1870 and 1880 census reports. Census reports of age for James Buchanan would verify his birth in 1834. Since Nancy Buchanan had a large family and little funds, the Renfrow family offered a burial plot for him at Renfrow #2. This area contains several rough stones with no markings. The 1876 Moniteau County plat map shows a small cemetery in section 24. This is probably the Renfrow #2 graveyard. . .
The California Democrat published two short articles regarding the Renfrow Mill explosion. The first article, May 28th, 1885 was as follows:
"The James Renfrow Mill was blown up by explosion of boiler. The fireman (James Buchanan) was badly scalded. James Renfrow (owner) and Dave Beary both received a wound in the arm. Not knowing, we are unable to state any further particulars."
The second, a death notice, appeared on Thursday, June 18th and reads as follows:
"James Buchanan, who was fireman at Renfrow's Mill, and who was injured by the recent explosion of the boiler at the mill, after 19 days of suffering, died last week. He was about 45 years of age and leaves a wife and six or seven children in destitute circumstances."
Backdating from his death on June 11th, 1885, nineteen days would put the explosion on or about May 22, 1885. Nancy Buchanan moved with her children to Miller County, Mo. to live near her father, Joseph Hall. Her grown son, Columbus, and her father, helped rear the other children. She was remarried in 1889 to Silas Vaughn in Miller County.
Children of James and Nancy Buchanan:
Columbus Buchanan
Alonzo Buchanan
Charles Buchanan
Daniel Greene Buchanan
Rebecca Buchanan Slavens
William Buchanan (died of smallpox before 1885)
Jack Buchanan
---
---
Please go to the contact page with questions or comments about this web site
Copyright © 1997- Alan Sparks - Moniteau County MOGenWeb, All Rights Reserved.
Last modified: November 09, 2014