Moniteau County Missouri



Vivian Farm Cemetery listings
---
On page 211 of the Recordings of Walker Township Cemeteries published by the Moniteau County Historical Society, it states:
On land now owned by Otto Schoeneberg and family (in the 1970s) known as Vivian Farm is an old cemetery. Several graves were marked with native stones some 50 years ago. All evidence of burial place is now removed. No one seems to know who was buried here. It has been suggested years ago that this was a burial place for slaves.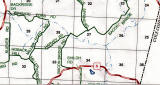 It is in Township 46, Range 14, Sections 27, 28, and 33 southeast of Jamestown, east of Hwy 87 and just north of Rt N.
---
---
Please go to the contact page with questions or comments about this web site
Copyright © 1997- Alan Sparks - Moniteau County MOGenWeb, All Rights Reserved.
Last modified: November 13, 2014