Moniteau County Missouri



Wyss Cemetery listings
---
According to the Recordings of Linn Township Cemeteries: This cemetery is enclosed in a limestone wall near a fence row and northeast of the old log home which may have been built by C A Wyss. No inscription was found. Located in the NW 1/4 of the SW 1/4 of Township 46, Range 14, Section 15.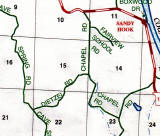 Located in this area.
Originally recorded by Jim Martin and Peter Schlup in the summer of 1987.
----------------------------------------------------------------------------------------
Christian Wyss was born on August 17, 1810 near Gerzensee in the Canton of Berne, Switzerland. On August 22, 1829 he married Mary Elizabeth Steiner in Switzerland. They had 10 children. In 1851 the family, with 9 children (the eldest daughter having died) departed from LeHarve, France on the sailship The Virgin Mary. Forty-seven days sailing brought them to New York. They traveled to Tuscarawas County, Ohio and settled on a farm near New Philadelphia. In 1854 the family moved to Moniteau County, Mo. and settled on a farm near Jamestown.
Christian Wyss died of typhoid fever in 1858. During the Civil War the eldest sons, John, Fred, and Christian, Jr. served in the Union Army and Christian, Jr was mortally wounded in the battle of Jefferson City. He is buried in the Chapel (Kubli) Cemetery southeast of Jamestown. Missouri was a divided state in the conflict and the Wyss family home was pillaged by local Confederate sympathizers who took the sword and epaulets Christian had worn when he was a captain in the Swiss army before he departed for America.
The above was written by Don Wyss
---
* = Calculated Date based on age; d/o = daughter of; s/o = son of; w/o = wife of; m = married

= Click for picture
Last Name, First Name, Middle, Birth Date, Death Date, Comments

Wyss C (Christian) A -- 1810 Aug 17 - 1858 -- m Mary Elizabeth Steiner; had 10 children
---
---
Please go to the contact page with questions or comments about this web site
Copyright © 1997- Alan Sparks - Moniteau County MOGenWeb, All Rights Reserved.
Last modified: August 13, 2016