Church of Christ (1968-Present)
California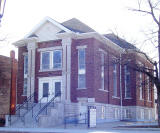 The current Church of Christ in California.
Built in 1913, it first served as the Presbyterian Church.
From the February 5, 1970 California Democrat:
Church of Christ Buys Building
The Church of Christ has purchased the Presbyterian Church building and parsonage from the board of directors of the former congregation. The Presbyterians disbanded about two years ago when there were only 15 active members left in the congregation.
The Presbyterian Church was organized in the 1860's and the present church was built in 1913.
The Church of Christ has been meeting in the building since a mission was started in July of 1968. Lindsay Patterson was employed as pastor and arrived here with his family last January.
The parsonage has been completely redecorated and work has begun on the church. The basement has been divided into six classrooms and the sanctuary will be remodeled and redecorated as funds become available.
Kenyon Latham, Jr. has purchased the pipe organ and is expected home from Minnesota this weekend to begin dismantling it.
If anyone has information on this church, please contact Alan Sparks.
---
---
Please go to the contact page with questions or comments about this web site
Copyright © 1997- Alan Sparks - Moniteau County MOGenWeb, All Rights Reserved.
Last modified: August 02, 2014