German Baptist Church (Bef 1890-1925)
North of California
Near Junction of Rt O & Rt D
Pictured below, the German Baptist Church, 1912.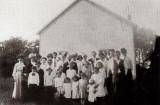 William Bloch 3rd (number of man from right): Sam E Bloch, 6th; Frank Rohrbach, 7th; Samuel Bloch, Jr., 8th; Rev Tate, 11th.
Photo from The History and Genealogy of the Niklaus Beutler and Rosina Andres Family of Moniteau Co., Missouri and Tuscarawas Co., Ohio (Gary D Bettcher, 1994).
From Historical Sketch of Concord Baptist Association and its Churches published in 1973:
German Baptist Church, located about midway between California and Mt Pleasant was constituted before 1890. The cemetery at the junction of Moniteau O and D is near the site of the church building. In 1925 the trustees were instructed to sell the building and distribute the money among California (First), Friendship and Mt Pleasant. The clerk was instructed to give letters to German Baptist members to the church they desired to join and then ". . . a motion was made and seconded that we disband." Most of the members apparently went to the three churches mentioned as receiving the money from the sale of the building.
If anyone has information on this church, please contact Alan Sparks.
---
---
Please go to the contact page with questions or comments about this web site
Copyright © 1997- Alan Sparks - Moniteau County MOGenWeb, All Rights Reserved.
Last modified: August 02, 2014