Moniteau County, Missouri
Moniteau County was formed in 1845 from Cole and Morgan Counties. It is bordered on the north and northwest by Cooper county, on the west and southwest by Morgan, on the south by Miller, on the east and southeast by Cole and on the northeast, across the Missouri River, by Boone county.
---
California-Jamestown Area Veterans Memorial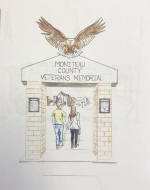 California Progress, Inc. (CPI) is soliciting funds and names for a Veterans Memorial as part of the Latham Memorial Family Park in California. The park being developed is the former site of the Latham Hospital. The requirement to have a name on the memorial is for the veteran to have lived in Walker Township (California, McGirk areas) or Linn Township (Jamestown, Lupus, Sandy Hook areas) of Moniteau County at some point in their life and not be an active service member. CPI has decided to not include active service members at this time.
This page lists the 3,110 names submitted to the engravers and information about how to submit a name for future inclusion on the memorial. As of September 9, 2021 names are being compiled as future additions to the memorial.
---
The Aurora Alumni Association of California High School has published a 130th Anniversary history book that details the history of the school with over 7,500 graduates listed.
Included are lists of various Kings and Queens through the years along with State Champion and State-placing Sports teams. Also included are DECA State & National Award winners and National FFA degree winners.
---
Obituary Indexes
All of these pages should be searchable here
---
Businesses
Moniteau County has several long time businesses that were started over 50 years ago and continue today. Below are some of these businesses that started prior to 1972 and a brief history of each.
---
History of Moniteau County, Missouri Volume II Year 2000 is still available!
The Moniteau County Historical Society has published Volume II of the History of Moniteau County and Families. The last History of Moniteau County and Families was written in 1980. Many years from now these histories and stories will be a valued possession. This is a unique way of celebrating the end of a millennium and to begin the year 2000. This new history is available for pickup by special arrangement or by mail. Click the info button below for ordering instructions.



The 2000 book is 860 pages including a surname index! The price is $25 + $7.50 postage. Please click on the Info button for ordering information.
---
Snail Mail Addresses

Moniteau County Historical Society
201 N. High
California, MO 65018
573-796-3563

The Historical Society Library is now OPEN every Thursday, Friday and Saturday from 1-5 p.m. during April through October.
These following offices refer all genealogical inquiries to the Historical Society. Any questions, please email Alan Sparks.
Moniteau County Clerk
200 E. Main
California, MO 65018
573-796-4661

Moniteau County Circuit Clerk
200 E. Main
California, MO 65018
573-796-2071
---